Bollywood Storm
AN ELANNA FORSYTHE GEORGE MYSTERY
At the Age of Thirty-three Elanna Forsythe George became....
A Desi
A Novel in Two Books
by N. K. Johel
The Call
Elanna Forsythe George
is a Boston-born, New York forensic scientist who takes on cold cases. Stone cold dead cases. She solves murders in unusual ways, with her accidentally-acquired paranormal abilities. Her cases usually come to her a few years after high-powered mainstream investigations, police and legal proceedings have all failed, and there's a dead end. But she doesn't take every case. . . .
Book I, New York.
Elanna is hired by the Bollywood starlet, Simryn Gill, to reopen the case of Rajesh Sharma, a Bollywood director who died, supposedly of a heart attack, two years previous. Although it appears to be a simple heart attack, there is no drama, no gossip, no controversy in the Bollywood media. Somewhere in that odd, conspicuous silence, Elanna smells a big rat .
Book II, Mumbai.
Elanna's powerful and unpredictable abilities lead to an encounter with a wild and reckless persona named Christine, who works the Bollywood scene trying to get them inside the Bollywood mob. But Christine's mission fails, and, soon after, Elanna endures a vision of the fearsome Goddess Kaali Ma. She finds herself transformed into a beautiful, pure talent; a dancer named Rakhi. Now, the two headstrong women must work together to infiltrate the Bollywood cartel, expose those behind the serpentine Bhujangen cult that controls the filmi-industry, and finally uncover the dark forces behind the deaths of Rajesh Sharma, and more than half of his illegitimate children.
Bollywood Storm
is a lyrical, mystical, murder mystery set in Bollywood-style. Along the way, it's a meditation on Eastern and Western cultures, self, identity, privilege and loss, ego and intimacy – and it's got five song and dance numbers in it, too.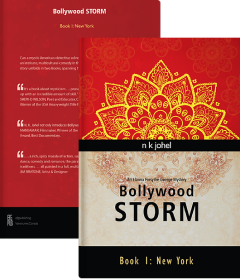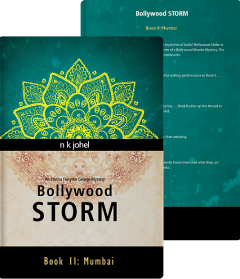 Praise for Bollywood Storm